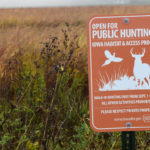 The Iowa Department of Natural Resources (DNR) is now accepting applications for a decade-old program that provides landowners technical assistance and financial incentives for allowing hunters access to an improved area. The popular Iowa Habitat and Access Program (IHAP) allows land to remain privately owned but allows public hunting access from Sept. 1 to May 31. DNR conservation officers provide assistance and enforcement if necessary. Trapping is prohibited in IHAP designated areas. "The program benefits landowners, wildlife and provides additional hunting opportunities, which are all priorities of the DNR and important to our landowners and our hunters," says Brian Hickman, coordinator for the DNR's private lands program. Hickman adds the benefits of having a biologist at the property owner's disposal while establishing a habitat and as they navigate the federal and state conservation rules and requirements has been invaluable. Feedback from landowners on the program found more than 95 percent were satisfied and 92 percent would recommend it to others. Hunters are also pleased, with 99 percent saying they would hunt IHAP again. The program is partially funded by the U.S. Department of Agriculture's Voluntary Public Access and Habitat Incentive Program. Interested landowners can contact their local private lands staff with the DNR. A link to a map of the private lands staff can be found below.
_______________________________________
Landowners interested in learning more or in signing up land can contact their local private lands staff. First, go to this link: www.iowadnr.gov/About-DNR/DNR-Staff-Offices
Then, scroll to the Private Lands Staff pdf.