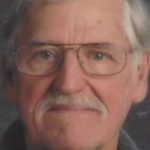 Wilson "Willie" Dale Thomas, age 82, of Coon Rapids, IA, passed away on Thursday, October 8, 2020 at Mercy Medical Center in Des Moines surrounded by his family.
     A public graveside service will be held at 11:00 A.M. on Saturday, October 17, 2020 at Oak Hill Cemetery near Coon Rapids with Pastor Joyce Webb officiating.  Casket bearers will be Tyler Thomas, Tyson Smith, Clint Reynolds, Kemper Thomas, Kevin Gross, Chris Parkis, Denny Hawthorne, and Lonny Namanny.  Honorary casket bearers will be Dave Thomas, John Thomas, Mark Pingery, Dave Kading, Wes Niles, Randy Spotts, Ron Lucht, and Roger Lucht.  Military honors will  be conducted by the Coon Rapids American Legion and the Iowa National Guard.
     Those in attendance at the graveside service are asked to abide by Covid – 19 social distancing guidelines.
     Those who wish to send memorials and cards may mail them to: The Family of Willie Thomas c/o Dahn and Woodhouse Funeral Home – 518 Main St.  Coon Rapids, IA, 50058.
     Funeral arrangements are under the direction of the Dahn and Woodhouse Funeral Home of Coon Rapids and online condolences may be left for the family at www.dahnandwoodhouse.com
     Willie, as he was known to most, was born on April 20, 1938 on his family's farm north of Coon Rapids.  He was the son of Orel and Margaret (Pingery) Thomas.  He attended country school as a boy and graduated from Coon Rapids High School in 1956.  Willie worked for Garst and Thomas Seed Company until he was drafted in to the United States Army in 1961.  He was stationed in Ft. Eustis, Virginia, and he served two years in transportation.  He was married to Shanda Roles while living in Virginia on September 15, 1962 at James River Baptist Church in Williamsburg, Virginia.  Upon his honorable discharge he returned to Coon Rapids and continued to work for Garst and Thomas until 1993.  Willie then worked at Farmland in Carroll, drove school bus, and most recently worked at Hartung Brothers Seed Company.  He was a member of the United Methodist Church in Coon Rapids.  He was a founding member of the Coon Rapids Lions Club and he was a past member of the Jaycees.  Willie enjoyed fishing, camping, golfing, bowling, hunting, water skiing, and dancing.  Most of all, Willie was a family man and he especially loved every moment spent with his grandchildren.  He was an avid Coon Rapids Crusaders fan.
     Willie is survived by his wife Shanda Thomas of 58 years of Coon Rapids; daughter Christina McKenney (Dave Halbur) of Coon Rapids; son Michael Thomas (Sherri Swan) of Gilbert, AZ; son William Thomas (Nicki) of Coon Rapids; nine grandchildren: Candace Gross (Kevin), Alysha Reynolds (Clint), Tyson Smith (Kaylinn), Tyler Thomas, Alex Thomas, Kennedie Thomas, Rylie Thomas, Reegan Thomas, and Kemper Thomas; five great-grandchildren: Ava, Jackson, Annabelle, Maggie, and River; a sister-in-law Pat Carroll of Murfreesboro, TN; a brother-in-law Billy Roles of Barhamsville, VA; his special nieces Valorie Hawthorne (Denny) and Vickie Namanny (Lonny); other extended family members and many good friends.
     Willie was preceded in death by his parents Orel and Margaret Thomas; his mother and father-in-law Macy and Russell Roles; a brother Howard Wayne at birth; a sister Patricia Lyons; and son Wilson Dale Thomas Jr. at birth