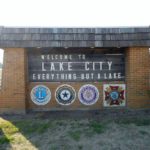 The Lake City Council has hired an engineering consulting firm to conduct a wastewater analysis study as officials seek a disadvantaged community designation from the Iowa Department of Natural Resources (DNR). The U.S. Fish and Wildlife Service has identified Lake Creek as a habitat for the endangered Topeka Shiner, and Administrator, Eric Wood, says Lake City will be required to reduce the nitrogen content in the wastewater being discharged into the creek to protect the minnow species, which will require the construction of an entirely new system.
Early cost estimates for the improvements range from $2.5 million to over $5 million, and Wood says the city just does not have the funds available right now to complete this work. That is why they are seeking the disadvantaged community status.
Part of the DNR's requirements for approval is a current analysis of the city's wastewater. The council has awarded a $5,000 contract to MSA Engineer Consultants, which is the same firm already assisting the city with the project, to conduct that study. Wood says they will be taking an in-depth look at the tangible effects of a system upgrade.
If Lake City's disadvantaged community application is approved by the DNR, it will give city officials another 10 or more years to prepare for the project. It will need to be completed much sooner if the application is denied.