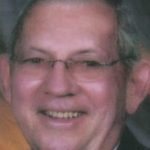 Dale Fogerty, age 83 of Sun Lakes, AZ, formerly of Carnarvon, IA, passed away peacefully on Wednesday, September 30, 2020, at Eckstein Center Hospice of the Valley in Scottsdale, AZ. Dale Thomas Fogerty was born on May 20, 1937, to parents John and Helena (Janssen) Fogerty in Carnarvon, IA. He was baptized and confirmed at St. Joseph Catholic Church in Wall Lake.
A Private Memorial Mass will be held at 10:30 am Thursday at St. Joseph Catholic Church in Wall Lake with Burial to be in the Wall Lake Cemetery in Wall Lake.
Dale grew up in Carnarvon along with his four siblings and attended school at Viola #5 Country School in Carnarvon. It was a one room school that housed eight grades taught by one teacher. Hunting, fishing and spending time at Blackhawk Lake were among Dale's fondest memories of his early years. He went on to attend Lake View High School where he graduated from with the Class of 1954. Dale then continued his education at Iowa State College after much urging by his aunt Ruby Coyne.
On August 31, 1957, Dale married the love of his life, Shirley Mae Kramer, at the Holy Family Catholic Church in Lidderdale, IA. He and Shirley packed up all of their wedding gifts and possessions and took off for Boulder, CO, where he would then attend the University of Colorado to finish his college education.  He graduated from there with his Mechanical Engineering Degree.  Dale and Shirley's union was blessed with two children, June and Glen. Dale was hired by Caterpillar Tractor Co. which meant a move to Peoria, IL. After three years there, he decided to join the IBM team and moved him and his family to Philadelphia, PA. He joked that for the following twenty-nine years they chased the "I've Been Moved" dream of IBM. Over the years he and his family were relocated about twenty times. In 1992 Dale was offered an early retirement package and at the age of fifty-five he
decided to retire and never look back at the corporate life.
So many moves meant a lot of people met along the way. One of them being NASCAR driver Rusty Wallace who was a neighbor when they lived in Charlotte, NC. This turned into Dale becoming a NASCAR fan of course, so a favorite pastime was going to many races across the nation. Dale also followed F1 racing as well.  Camping was something Dale and his family enjoyed doing. They purchased their first pop up tent camper in 1968 and over the years graduated to owning larger trailers and RV's that they enjoyed as they toured the countryside together. When Dale retired in 1992, he and Shirley traveled about fifty percent of the time visiting all 48 states in their RV. They then made it to Alaska and Hawaii via cruise ships. Dale's favorite memories were those of hunting, fishing, RV traveling, bus touring and ocean cruising. Dale was good at writing down some of his best memories and wanted them to be shared.
His favorite hunting story was about a trip he and Shirley made on a Colorado mesa. In the dark before dawn, they were walking to their deer hunting stands when suddenly black shapes rose up all around them and thundered off the mountain. They had walked into the middle of a herd of elk that were bedded down for the night. Later that morning Shirley downed her first deer, one shot. Dale's favorite fishing story is about a trip they made to the far backcountry in Colorado where they were catching their limit of trout every day. A neighbor camper wasn't doing as well and offered to trade some steaks for some of our trout. This turned out to be an expensive trip because they didn't have a refrigerator, rather an ice box which meant a twenty mile trip to get a block of ice when needed.  They returned home after shopping for a refrigerator for their smaller camper. They bought a refrigerator all right….it just happened to be inside a new Winnebago motorhome.  His favorite RV trip was when they rode from El Paso, TX, into Mexico as their RV was loaded onto railroad flatcars. The train took five days pulling them through the Copper Canyon. They then drove all the way up the Baja Peninsula to San Diego. The two of them also enjoyed a big bus trip that took them on a whirlwind tour of Europe seeing thirteen countries in thirty days. And as far as cruises go, Dale's favorite was the one they took out of San Diego, CA, to Hawaii, Tahiti, Bora Bora, and the French Polynesian Islands and back to San Diego…he and Shirley liked that one so well they did it a second time.
Of all the places Dale's career as well as their travels took them, they would finally land in The Valley of the Sun living in an independent living facility together. He always spoke of how exhilarating it was to fire up the RV, turn on the radio and listen to Willie Nelson's "On the Road Again" as they headed down the road to a new destination. Life was indeed, good!
Dale will be missed dearly by all who knew and loved him. He leaves behind his children: June (Kenneth) Abercrombie of Port Angeles, WA, Glen (Carol) Fogerty of Paradise Valley, AZ; grandchildren:  Jackson Fogerty of Sydney, Australia and Grant Fogerty of Tempe, AZ; brother Dean Fogerty of Boulder, CO; sisters: Jane (Paul) Alesch of Lake View, IA, Mary (Tom) Kelly of Port Charlotte, FL; many extended family members and friends.
He was preceded in death by his wife, Shirley Fogerty; parents John and Helena Fogerty; and sister June Anne Fogerty.