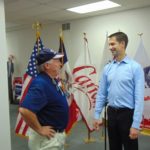 Pictured (L-R): Iowa Senate District 6 candidate, Craig Williams, speaks with U.S. Senator, Tom Cotton of Arkansas, prior to the debate Monday night.
U.S. Senator, Tom Cotton of Arkansas, visited the Carroll County GOP headquarters Monday night for a watch party for the debate between senatorial candidates, Republican incumbent, Joni Ernst, and Democrat, Theresa Greenfield. Ernst and Cotton were both elected to the Senate in 2014, and he says they became close soon after arriving in Washington, D.C.
Prior to the debate's start, Cotton called Iowa the "center of the political universe" and says Republicans cannot afford to lose here.
Like most major elections, voter turnout is a major concern for Republicans and Democrats. Many people are looking for other ways to cast their ballots this cycle due to the pandemic. Cotton says he and many of colleagues are not opposed to absentee or mail-in voting, especially in states where it is already well established. However, he does have concerns about a hastily put together mail-based plan.
Cotton is hopeful for high voter turnout, but he encourages everybody who intends to vote should have a plan to do so well in advance and an idea of how to ensure their ballot is received. Ernst and Greenfield clashed on nearly every topic brought up during the hour-long debate, and the moderators stepped in several times. After Ernst and Greenfield had concluded, Cotton told the approximately 30 people in attendance at the watch party that what they saw from Ernst during the debate is what he has also seen from her in the Senate.
Cotton has one challenger for his re-election campaign in Arkansas, Libertarian, Ricky Dale Harrington Jr. The Democratic Party of Arkansas was unable to field a candidate after their nominee, Josh Mahony, pulled his name from the race after the nomination deadline. Cotton says you can expect to see him back in Iowa campaigning for Ernst soon.