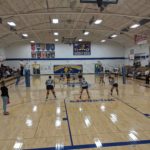 Volleyball Results Monday, September 28th
West Harrison At Glidden Ralston
Glidden Ralston 3
West Harrison 0
25-17, 25-22, 25-12
Glidden Ralston grabbed their 4th straight win on Monday as they improved to 9-5 overall and 5-1 in the Rolling Valley Conference. The win keeps them right in the thick of the conference race with Coon Rapids Bayard undefeated in 1st place and Glidden Ralston, CAM Anita and Boyer Valley each with 1 conference loss.
The Wildcats were cruising early with Kim Daily working the ball to Gretchen Wallace in the middle. Alicen Dreessen also had a couple nice plays in the middle in set 1. The Wildcats trailed 1-0 but grabbed the lead at 2-1 and took the lead for good at 5-4. Kim Daily had a couple aces as the Wildcats built a 23-9 lead. They struggled to put the set away and West Harrison closed the set on an 8-2 run.
Glidden Ralston looked sharp to start set 2 and led 4-1 but it was short lived. The Hawkeyes rallied back and went ahead 7-6 before getting up 19-13. The Wildcats settled down and grabbed some momentum from Paige Klocke serve and Wallace had a run of overpass kills that pulled the Wildcats within 22-21. They would go up 23-22 and took the 2nd set to grab control of the match.
The 3rd set was all Glidden Ralston as they jumped out 7-0 and never looked back going on to win 25-12.
Gretchen Wallace and Kim Daily led the way again with Wallace having 20 kills and Daily adding 25 assists and 3 aces. Alicen Dreessen added 6 kills and 3 blocks. Paige Klocke had a team high 4 aces.
The Wildcats travel to Woodbine on Thursday.
Glidden Ralston Stats
Gretchen Wallace 20 Kills, Ace
Kim Daily 25 Assists, 3 Aces, 3 Digs
Alicen Dreessen 6 Kills, 3 Blocks
Vanessa Koehler 4 Kills, Assist, Dig, 2 Blocks, Ace
Paige Klocke 1 Kill, Assist, 4 Aces
Morgan Koehler 3 Kills, 2 Digs, 2 Aces
Tiela Janssen 3 Digs
Lexi Wiederien 2 Digs
Haley Onken 1 Dig