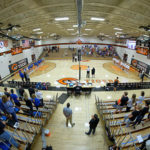 Photos: Sponsored by Roselle Mutual Insurance
Volleyball Results Thursday, September 24th
Bondurant Farrar At Carroll
Carroll 3
Bondurant Farrar 2
17-25, 18-25, 25-21, 25-18, 15-10
It was an incredible comeback for the Carroll Tigers who looked out of sorts for good portions of sets 1 and 2 before coming to life to start the 3rd set. Carroll didn't have a single lead in the first two sets after falling behind to start both. They pulled within 13-11 in the 1st set and did tie the 2nd set four times with the last tie coming at 6. Carroll battled back in the 2nd set from a 5 point deficit to trail 17-16 but Bondurant Farrar serve gave Carroll troubles and they went on an 8-2 run to end the set and appeared to have all the momentum.
Things switched in set 3 as Carroll came out and went ahead 5-0. Bondurant Farrar slowly worked their way back into the set and tied it at 17 but Hannah Jorgensen went on a service run and the Tigers extended the lead to 24-18. Ella Collison and Josie Ayala got rolling in the 3rd set and the Blue Jays struggled to find an answer for them. Ayala ended the 3rd set with a kill from the outside.
There had not been a lead change through the first 3 sets but Carroll changed that in set 4. After falling behind 4-1 they rallied and grabbed the lead at 6-5 and never trailed again. Laura Sweeney and Ella Collison had nice service runs and Kennedy Lein was able to send the match to a 5th set with a kill on a slide.
The 5th set had three lead changes early with Carroll getting the lead for good at 6-5. Ayala and Collison again came up big and the Tigers received a couple crucial blocks from Gabi Hammer, Kennedy Lein and Laura Sweeney. Carroll extended the lead to 11-7 before the Blue Jays closed within 2 at 11-9. Lein had a crucial block to give momentum back to Carroll up 12-9. Ayala served an ace and Collison followed that up with a block and Carroll had match point at 14-9. Collison then ended the match with a kill.
The win improves Carroll to 14-8 and 4-2. They head to the Nevada Tournament on Saturday.
Collison had a big night with a team high 22 kills as her and Ayala teamed up for 40 kills with Ayala adding 18. Hammer and Lein were both solid in the middle with 9 and 7 kills respectively. Laura Sweeney who had to set a lot from behind the 10 foot line still finished with 49 assists. Sweeney also led Carroll with 16 digs while Hannah Jorgensen and Ayala added 12 each and Kenzie Honold who had a couple crucial digs including a great pancake in set 3 finished with 11. Ayala had a team high 5 aces and Lein paced the block with 3.
Carroll Stats
Laura Sweeney 49 Assists, 16 Digs, 2 Blocks
Hannah Jorgensen 7 Assists, 12 Digs, Ace
Josie Ayala 18 Kills, 12 Digs, Block, 5 Aces
Ella Collison 22 Kills, 8 Digs, 2 Blocks, 2 Aces
Alexia Thornock 4 Kills, Assist, Block
Gabi Hammer 9 Kills, 2 Assists, Block
Kenzie Honold 11 Digs
Kennedy Lein 7 Kills, Dig, 3 Blocks, Ace
Glidden Ralston At Exira-EHK
Glidden Ralston 3
Exira-EHK 1
25-18, 19-25, 25-15, 25-16
Glidden Ralston gets a critical road win on Thursday as Gretchen Wallace goes over 500 kills for her career. The senior finished the night with 22 kills. The win moves the Wildcats to 8-5 overall and 4-1 in conference play and keeps them just a game behind Coon Rapids Bayard with a matchup with the Crusaders to end the regular season. The Wildcats had struggled this season to put away sets and matches when they had the lead. They improved on that Thursday dominating sets 1, 3 and most of 4. The Wildcats did lead set 4 24-9 before winning 25-16 but closed out sets 1 and 3 much better. After dropping set 2 they came out and took control early in set 3.
Wallace had a team high 22 kills while adding 3 blocks and 4 aces. Kim Daily continues to impress with 40 assists and 3 aces. Morgan Koehler hit double digits in kills again with 12. Paige Klocke had 5 blocks and Alicen Dreessen finished with 4 blocks. Lexi Wiederien had a team high 7 digs.
The Wildcasts will host West Harrison on Monday.
Glidden Ralston Stats
Gretchen Wallace 22 Kills, 4 Digs, 3 Blocks, 4 Aces
Kim Daily 2 Kills, 40 Assists, 2 Digs, 3 Aces
Morgan Koehler 12 Kills, 3 Digs, 2 Blocks, 2 Aces
Vanessa Koehler 5 Kills, Block, 2 Aces
Paige Klocke 1 Kill, Assist, 5 Blocks, 2 Aces
Alicen Dreessen 2 Kills, 4 Blocks
Lexi Wiederien 7 Digs
Macy Snyder 1 Dig, Ace
Tiela Janssen 2 Assists, 5 Digs
Haley Onken 2 Assists, 2 Digs
Coon Rapids Bayard At Woodbine
Coon Rapids Bayard 3
Woodbine 1
22-25, 25-20, 25-23, 25-19
Coon Rapids Bayard remained undefeated in the Rolling Valley Conference after rallying from a loss in the 1st set on Thursday. Woodbine came out strong and took the 1st set 25-22. Coon Rapids Bayard didn't really take control of the match until the 4th set as they were able to edge out wins in sets 2 and 3 with the 3rd set a 25-23 win giving them momentum and a 2-1 lead heading into set 4. The Crusaders finished with 27 kills but it was the back row that helped them pick up the win. Coon Rapids Bayard had three players in double digits in digs and nearly had a fourth. Chloe Parkis and Gracy Johnson were huge with 36 and 20 digs respectively. Brynn Bass added 15 digs and had a solid night at the net with 6 kills.
Serving has been a big strength for the Crusaders and was solid though they finished with 5 aces. Alexa Culbertson had team high 8 kills and Cassidy Baker added 5 kills to go with 23 assists. Culbertson added a team high 3 blocks.
Coon Rapids Bayard is back in action on Tuesday as they host Boyer Valley.
Coon Rapids Bayard Stats
Chloe Parkis 2 Kills, 3 Assists, 36 Digs, 2 Aces
Alaya Betts 4 Kills
Cassidy Baker 5 Kills, 23 Assists, 9 Digs, Ace
Sammie Jackson 1 Kill, 2 Assists, 2 Digs
Gracy Johnson 20 Digs, Ace
Lacie Davis 5 Digs
Breely Clayburg 1 Dig, 2 Blocks
Alexa Culbertson 8 Kills, 3 Blocks
Mia Leighty 3 Kills, 2 Blocks
Brynn Bass 6 Kills, Assist, 15 Digs, Ace
South Central Calhoun and Pocahontas Area At SE Valley
South Central Calhoun 3
SE Valley 0
25-23, 25-21, 25-23
South Central Calhoun 3
Pocahontas Area 0
25-19, 25-18, 25-15
South Central Calhoun made a few lineup changes and had their best night since the early part of the season as they picked up a pair of conference sweeps. The Titans controlled the match with Pocahontas and then had to fight to win each set against SE Valley. The Titans largest win against the Jaguars was 4 points in set 2. The back row came up huge against SE Valley. Emma Geno and Kortney Riley both had 30 or more digs. The Titans played with a high energy level and it showed. Serving was the difference against the Indians. Josie Thompson had 8 of the teams 21 aces. Kortney Riley added 5 aces. The wins move them to 11-18 overall and 4-2 in the Twin Lakes Conference.
Laci Riedesel led the Titans with 8 kills against SE Valley while Kortney Riley had a team high 7 kills vs Pocahontas Area. Josie Thompson led the setters with 14 assists vs the Indians and 10 vs SE Valley. Sally Musselman added a match high 13 assists vs SE Valley. Emma Geno had 35 digs against the Jaguars and Kortney Riley added 30. Sophie McKinney had 9 digs and Laci Riedesel finished with 8 digs vs SE Valley. Keira Hammen had 4 blocks vs Pocahontas Area and 2 vs SE Valley.
The Titans play next Thursday At Manson NW Webster on KIKD.
South Central Calhoun Stats Vs SE Valley
Kylee Schleisman 2 Kills, 6 Digs, Block
Sophie McKinney 1 Kill, 9 Digs, Ace
Kortney Riley 5 Kills, 4 Assists, 30 Digs, Ace
Sayer Steig 4 Kills, 6 Digs, 2 Aces
Emma Geno 35 Digs, Ace
Sally Musselman 2 Kills, 13 Assists, 6 Digs
Laci Riedesel 8 Kills, Assist, 8 Digs, Block
Addy Geno 2 Kills, 3 Digs, 2 Blocks
Josie Thompson 1 Kill, 10 Assists, 3 Digs
Keira Hammen 6 Kills, 5 Digs, 2 Blocks, 2 Aces
South Central Calhoun Stats Vs Pocahontas Area
Kylee Schleisman 3 Kills, Assist, Dig, Block
Sophie McKinney 1 Kill, Ace
Kortney Riley 7 Kills, Assist, 5 Digs, 5 Aces
Sayer Steig 3 Kills, Block, 2 Aces
Emma Geno 6 Digs, 2 Aces
Allie Kirkhart 2 Kills, Dig
Sally Musselman 2 Kills, 6 Assists
Laci Riedesel 3 Kills, Assist, 2 Aces
Addy Geno 1 Kill, Block
Josie Thompson 14 Assists, 8 Aces
Keira Hammen 5 Kills, 4 Blocks, Ace
Ar-We-Va At CAM Anita
CAM Anita 3
Ar-We-Va 2
13-25, 25-18, 17-25, 25-15, 20-18
It was a very tough loss on the road for the Rockets as they were up two sets to one and the 5th set went to extra points before they fell by 2 at 20-18. The Rockets did a nice job of being aggressive until the 5th set where they settled for more pushes and free balls and CAM Anita was able to take advantage. The Rockets were sharp and covered the floor well in the 1st set taking it with a convincing 25-13 win. After dropping the 2nd set they bounced back with a nice 25-18 win in set 3. The loss drops them to 5-10 overall and 2-3 in the Rolling Valley Conference.
Jadeyn Smith had her best night at the net with a team high 17 kills, she added 13 digs. Sara Schurke finished with a team high 20 assists while adding 8 kills and 9 digs. Bridget Cameron had a nice night serving with 4 aces. Jamie Hausman made 13 digs, 3 aces and Hannah Kraus added 10 digs. Kora Obrecht had 6 kills and Timberlen Kock added 6 digs.
The Rockets travel to West Harrison on Tuesday.
Ar-We-Va Stats
Sara Schurke 8 Kills, 20 Assists, 9 Digs, 2 Aces
Bridget Cameron 2 Kills, 5 Digs, 4 Aces
Jadeyn Smith 17 Kills, Assist, 13 Digs, 2 Blocks
Maggie Ragaller 1 Kill, Assist, 2 Digs
Jamie Hausman 3 Kills, 12 Digs, 3 Aces
Hannah Kraus 10 Digs, 2 Aces
Kora Obrecht 6 Kills, Block
Timberlen Koch 2 Kills, Assist, 6 Digs, Ace