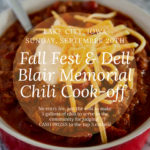 The first official day of autumn falls on Tuesday, Sept. 22 this year, and in their usual fashion, the Lake City Betterment will be ushering in the season this weekend with their annual Fall Fest. The event will take place from 10 a.m. to 2 p.m. on Sunday, Sept. 20 in Lake City's town square and community building. Betterment Director, Mackenzie Gorden, says they have activities planned for people of all ages and interests.
According to Gorden, they are planning to again hold the chili cook-off and community taste testing, which is always one of the most popular activities during Fall Fest.
First place claims the $200 prize with $100 for second place and $50 for third. There is no entry fee for contestants, but they do need to provide the ingredients to make at least five gallons of their chili for community judging. Gorden says there is still time for individuals or teams to register.
Contestants can register in-person at the Lake City Food Center, NAPA and city hall or online through the link included beneath this story. For only $5, attendees can put their chili-tasting skills to the test and sample all of the entries beginning at 11 a.m. Gorden says the biggest change to the 2020 Fall Fest schedule is the addition of the Calhoun County Relay for Life.
For more information on Fall Fest, visit the Lake City Betterment Facebook page, a link to which is included below.
______
Dell Blair Memorial Chili Cook-Off Registration