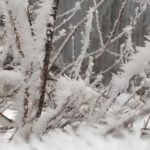 This Story has been updated here.
This weekend might get a little messy. National Weather Service in Des Moines issued a winter storm watch for our listening area from Sunday Morning until Monday.
Latest prediction models have a large system coming out of the Southern Rockies/Baja area of Mexico and work it's way to the Central Plans on Saturday. This system will make it's way to Iowa by late Saturday Night and bring warm air from the Gulf setting us up for a chance for some freezing rain or sleet possible.
Current models predict some snow or sleet to start out then transition to freezing rain with moderate icing possible from around highway 30 southward. Ice accumulations of around a few tenths to a quarter of an inch is possible.
This is still early on, and more details will be release about our next ice storm as the weekend approaches. Please be sure to stay tuned this weekend to the radio for cancellations and road conditions.