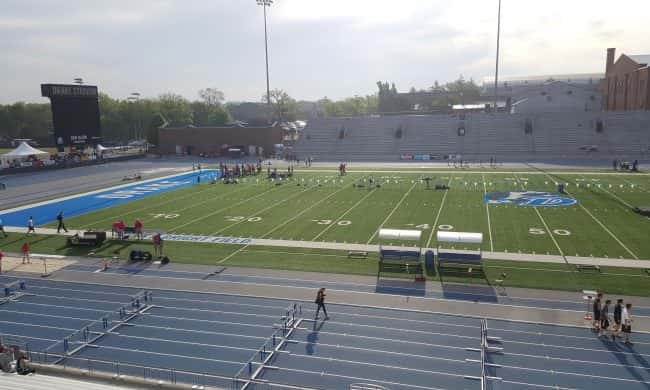 Thursday 9:00 AM
Girls 1A Shot Put
Melissa Deist – Audubon
Flight 2 Thrower 4
1st Round
Throw 1: 34′ 9.5″
Throw 2: 34′ 6″
Throw 3: 35′ 1.5″
Finished 17th – Did not qualify for finals
Click here for interview with Melissa Deist
Boys 1A Long Jump
Drew Schurke – Ar-We-Va
Flight 1 Jumper 11
1st Jump: 19′ 9.75″
2nd Jump: 18′ 5.75″
3rd Jump: 19′ 5.5″
Finished 13th – Did not qualify for finals
Click here for interview with Drew Schurke
Thursday At 10:40
Girls 1A 200 Meter Dash Prelims (Finals Saturday At 1:55)
Jade Hays – Coon Rapids Bayard
Heat 2 Lane 7
Time: 27.22
Place in Heat: 7th
Place Overall: 19th
Did not qualify for finals
Click here for interview with Jade Hays
Whitney Petersen – Audubon
Heat 2 Lane 2
Time: 27.76
Place in Heat: 8th
Place Overall: 24th
Did not qualify for finals
Click here for interview with Whitney Petersen
Thursday At 11:00
Boys 1A 200 Meter Dash Prelims (Finals Saturday At 2:05)
Marshall Hansen – IKM/Manning
Heat 1 Lane 7
Time: 24.12
Place in Heat: 6th
Place Overall: 19th
Did not qualify for finals
Click here for interview with Marshall Hansen
Thursday At 11:20
Girls 1A 4×800
IKM/Manning
Section 2 Number 8
Kia Rasmussen, Payton Sporrer, Shyanne Sporrer, Gabby Cadwell
(Cassidy Branning, Emma Beerman – Alternates)
Time: 10:15.81
Place in Section: 5th
Place Overall: 5th
Thursday At 12:10
Boys 1A 4×800
IKM/Manning
Section 1   Number 3
Nathan Blankman, Adam Gruhn, Alex Lingle, Parker Behrens
(Quentin Dreyer, Dillon Hansen – Alternates)
Time: 8:27.98
Place in Section: 3rd
Place Overall: 12th
Thursday At 1:20
Girls 1A 400 Meters
Gabby Cadwell – IKM/Manning
Section 1 Lane 4
Time: 1:04.81
Place in Section: 7th
Place Overall: 23rd
Click here for interview with Gabby Cadwell
Whitney Petersen – Audubon
Section 2 Lane 8
Time: 1:04.46
Place in Section: 8th
Place Overall: 22nd
Click here for interview with Whitney Petersen
Thursday At 1:40
Boys 1A 400 Meters
Alex Lingle – IKM/Manning
Section 1 Lane 8
Time: 52.44
Place in Section: 2nd
Place Overall: 12th
Click here to view interview with Alex Lingle
Thursday At 2:00
Boys 1A Shuttle Hurdle- Prelims (Finals Saturday At 12:15)
Audubon
Heat 4 Lanes 5 & 6
Jackson Jensen, Tyler Riebhoff, Skyler Schultes, Nolan Smith
(Joel Klocke, Ethan Klocke – Alternates)
Time: 1:00.06
Place in Heat: 2nd
Place Overall: 4th
Qualified for finals on Saturday at 12:15
Thursday At 2:00
Girls 3A Discus
Ashley Onken- Carroll
Flight 1 Thrower 9
1st Round
Throw 1: 106′ 5″
Throw 2: 111′ 8″
Throw 3: 108′ 6″
Did not qualify for finals. Finished 14th.
Click here for interview with Ashley Onken
Thursday At 2:00
Boys 2A Long Jump
Miles Rupiper – Kuemper (Defending State Champion)
Flight 2 Jumper 10
1st Round:
1st Jump: 20′ 9.25″
2nd Jump: Scratch
3rd Jump: 21′ 4.25″
Qualified for the finals
Finals
Best Jump: 22′ 1″
2018 State Champion
Click to hear interview with Miles Rupiper
Thursday At 2:00
Boys 3A High Jump
Max Molle – Carroll
Fight 1 Jumper 10
1st Height: Cleared 5′ 9″
2nd Height: Cleard 5′ 11″
3rd Height: Cleared 6′ 1″
4th Height: Went out on 6′ 3″
Place: Tied for 8th
Click here for interview with Max Molle
Thursday At 2:40
Boys 2A Shuttle Hurdle – Prelims (Finals Saturday At 12:20)
South Central Calhoun
Heat 6 Lanes 3 & 4
Mason Merkley, Hunter Muhlbauer, Keagan Meyer, Josh Van Hulzen
(Ayden Toms – Alternate)
Time: DQ
Place in Heat: DQ
Place Overall: DQ
Would have qualified for finals with 6th place finish, but they were disqualified.
Kuemper
Heat 6 Lanes 5 & 6
Truman Haukap, Parker Badding, Miles Rupiper, Izak Baumhover
(Max Meyer, Sam Poland – Alternates)
Time: 59.91
Place in Heat: 1st
Place Overall: 4th
Qualified for finals
Thursday At 3:50
Boys 2A 3200 Meters
Spencer Moon – South Central Calhoun
Section 1 Number 7
Time: 10:10.94
Place overall: 8th
Click here to view interview with Spencer Moon
Thursday At 4:20
Girls 2A 200 Meters – Prelims (Finals Saturday At 2:00)
Mallory Badding – Kuemper
Heat 3 Lane 8
Time: 26.93
Place in Heat: 5th
Place Overall: 13th
Did not qualify for the finals
Click here for video with Mallory Badding
Thursday At 4:20
Girls 3A 200 Meters – Prelims (Finals Saturday At 2:05)
Emma Perkins – Carroll
Heat 2 Lane 2
Time: 26.98
Place in Heat: 5th
Place Overall: 18th
Did not qualify for the finals
Click here for interview with Emma Perkins
Thursday At 4:30
Boys 3A Discus
Chase Gladden – Carroll
Flight 1 Thrower 4
1st Round
1st Throw: 136′ 9″
2nd Throw: 152′ 3″
3rd Throw: 137′ 7″
13th – Did not qualify for finals
Click here for interview with Chase Gladden
Thursday At 4:30
Girls 2A Long Jump
Mallory Badding – Kuemper
Flight 2 Jumper 10
1st Round
1st Jump: 17′ 6.25″
2nd Jump: Scratch
3rd Jump: Scratch
2nd, Qualified for the finals
Finals
Best jump: 17′ 9.75″
Place Overall: 2nd
Click here for video with Mallory Badding
Thursday At 4:30
Girls 3A High Jump
Taylor Mohr – Carroll
Flight 1 Jumper 17
1st Height: 4′ 9″ on first attempt
2nd Height: 4′ 11″ on second attempt
3rd Height: Went out on third height
Place: T-16th
Click here for interview with Taylor Mohr
Thursday At 6:30
Girls 2A 100 Meters – Prelims (Finals Saturday At 12:47)
Mallory Badding – Kuemper
Heat 1 Lane 6
Time: 13.28
Place in Heat: 7th
Place Overall: 15th
Did not advance to the finals
Click here for video with Mallory Badding
Thursday At 6:30
Girls 3A 100 Meters – Prelims (Finals Saturday At 12:50)
Emma Perkins
Heat 3 Lane 6
Time: 12.91
Place in Heat: 3rd
Place Overall: 9th
Did not qualify for the finals (missed out on finals by .02 seconds)
Click here to view interview with Emma Perkins
Thursday At 6:45
Boys 2A 100 Meters – Prelims (Finals Saturday At 12:55)
Parker Badding – Kuemper
Heat 1 Lane 1
Time: 11.62
Place in Heat: 6th
Place Overall: T-17th
Did not qualify for the finals
Thursday At 7:20
Boys 2A 400 Meters
Parker Badding – Kuemper
Section 2 Lane 2
Time: 49.93
Place in Section: 1st
Place Overall: 4th
Click here for interview with Parker Badding
Chase McAlister – South Central Calhoun
Section 3 Lane 1
Time: 50.95
Place in Section: 7th
Place Overall: 13th