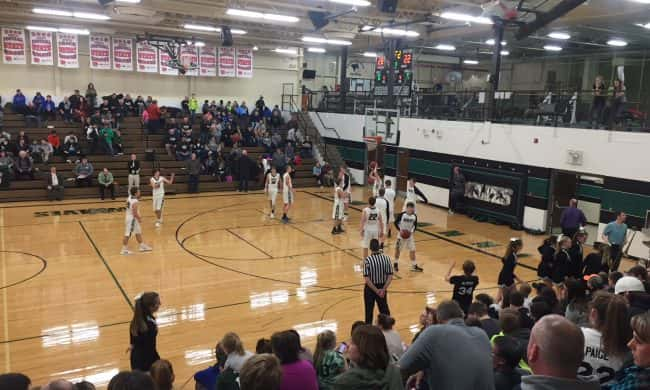 Kuemper At Red Oak
Kuemper 76
Red Oak 49
Kuemper Stats
Nate Mertz 4 Points, Rebound, Assist
Jared Tigges 6 Points, 3 Rebounds, 4 Assists, 3 Steals
Parker Badding 16 Points, 5 Rebounds, 4 Assists, 3 Steals
Justin Schroeder 8 Points, 8 Rebounds, Assist, Steal
Blake Baumhover 1 Point, 3 Rebounds
Sam Auen 22 Points, 5 Rebounds, 4 Assists, 3 Steals
Justin Schaefer 1 Rebound, 2 Assists
Blaise Gunnerson 9 Points, 10 Rebounds
Nate Wendl 4 Points, 2 Assists, Steal
Kyle Berg 2 Points, Rebound, Assist
Tre Knobbe 4 Points, 2 Rebounds
Carlisle At Carroll
Carlisle 74
Carroll 72
Carroll Stats-Carlisle makes a ft with 9 seconds left to go up 71-70. Carroll goes length of floor and loses it out of bounds. Carroll runs LOB play with 5 seconds and Chase Gladden gets fouled. Makes 2 ft's to go up 72-71 and Carlisle makes a half-court shot at the buzzer to win 74-72. 
Cooper Ross 27 Points, 4 Rebounds, 3 Assists, Steal
Jang Jioklow 4 Points, 2 Rebounds, 5 Assists
Justin Mohr 12 Points, 2 Rebounds, 3 Assists
Buom Lol 6 Points, 4 REbounds
Colby Vincent 13 Points, 3 Rebounds, Assist, Steal
Chase Gladden 6 Points, 6 Rebounds
Tyler Tunning 4 Points, 2 Rebounds, Assist
Taylor Peterson- Schroeder 2 Rebounds, 3 Assists
AHSTW At IKM/Manning
AHSTW 53
IKM/Manning 51
IKM/Manning Stats- Wolves trailed 3-1 early and then never trailed again until the final 1.5 seconds when Jack Paulsen stole a rebound and layed it up and in to give AHSTW the win.  IKM/Manning led by as many as 13 in the 2nd QT.
Jared Johnson 18 Points, 3 Rebounds, 3 Assists, 3 Steals
Austin Ahrenholtz 3 Points, 5 Rebounds, Assist, Steal
Kyler Rasmussen 1 Rebound, 5 Assists
Alex Lingle 20 Points, 3 Rebounds
Nathan Blankman 6 Points, Rebound, 2 Assists, 2 Steals
Colten Brandt 4 Points, 4 Rebounds, 3 Assists, Steal
Glidden Ralston At Exira EHK
Exira EHK 80
Glidden Ralston 45
Glidden Ralston Stats
Justin Sparks 13 Points, 7 Rebounds, Steal
Blake Pagel 13 Points, 2 Rebounds, 4 Assists
Brigham Daniel 5 Points, Rebound, Assist
Grant Borkowski 4 Points, 4 Rebounds, 2 Steals
Matt Slechta 4 Points, Steal
Drew Olberding 4 Points, 2 Rebounds
Trent Wiederien 2 Points, 2 Rebounds, 2 Steals
Luke Handlos 1 Rebound, Assist
Coon Rapids Bayard At Ar-We-Va
Ar-We-Va 55
Coon Rapids Bayard 39
Ar-We-Va Stats
Keegan Simons 21 Points, 8 Rebounds, Steal
Drew Schurke 10 Points, 2 Rebounds, 6 Assists, 3 Steals
Wyatt Neumann 7 Points, 7 Rebounds
Dylan Vetter 9 Points, 13 Rebounds, 3 Assists
Derek Oeser 6 Points, Rebounds, 5 Assists
Gage Boever 2 Points, 3 Rebounds
Henry Segebart 3 Rebounds
Trevor Gallagher 1 Rebound, Steal
Coon Rapids Bayard Stats
Chase Heithoff 4 Points, 3 Assists, Steal
Ben Obert 17 Points, 7 Rebounds, 2 Assists, Steal
Trenton Golay 6 Points, 2 Rebounds, 2 Assists, Steal
Cain Anderson 1 Rebound
Jalen Rosenbeck 1 Rebound
Isaac Leighty 7 Points, 8 Rebounds, 3 Blocks
Blaine Dudley 2 Rebounds, Assist
Kaleb Shirbroun 5 Points, Rebound
Alta Aurelia At South Central Calhoun
Alta Aurelia 55
South Central Calhoun 48
South Central Calhoun Stats
Landon Schleisman 5 Points, Steal
Matthew Clark 16 Points, 3 Assists, Steal
Cole Corey 2 Points
Zane Neubaum 8 Points, 6 Rebounds, Assist, Steal
Josh Henkenius 1 Rebound, 2 Steals
Jared Birks 6 Points, 8 Rebounds, Assist, Steal
Chase Scheidegger 2 Rebounds, 2 Assists
Jacob Nicholson 7 Points, 7 Rebounds
Sam Musselman 4 Points, 2 Rebounds, Assist
Storm Lake St Mary's At East Sac
East Sac 61
Storm Lake St Mary's 52
East Sac Stats
Levi Olhausen 11 Points, 2 Rebounds, 3 Assists, 3 Steals
Connor Crabb 14 Points, 2 Rebounds, 2 Assists
Griffin O'Neil 3 Points, 3 Rebounds
Derek Aschinger 5 Points, 2 Rebounds, Assist, 4 Steals
Ryan Bellcock 4 Points, 6 Rebounds
Brandyn Clair 17 Points, 8 Rebounds, 4 Assists, Steal
Alex Gerdes 3 Rebounds, 2 Steals
Josh Halbur 7 Points, 9 Rebounds, 5 Assists, 2 Steals
Audubon At LoMa
LoMa 71
Audubon 34
Audubon Stats
Jackson Jensen 1 Rebound
Noah Muzney 1 Rebound
Marcus Olsen 3 Points, 3 Rebounds
Josh Lange 3 Points, 3 Rebounds, 2 Steals
Tate Kileen 7 Points, 5 Rebounds, Assist, Steal
Ethan Klocke 7 Points
Lane Lawson 8 Points, 6 Rebounds, Steal