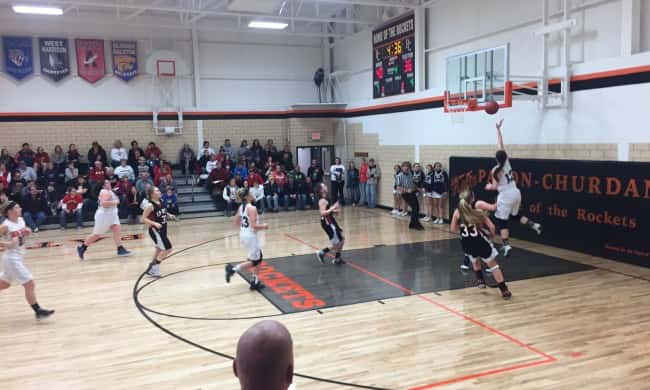 Top Teams
Glidden Ralston Girls Basketball moved to 9-1 overall and have won 6 straight.  The Wildcats have a chance if they take care of business this upcoming week to jump into the top 5 and maybe the top 3 with most of the teams in front of them losing this past week. Girl's rankings are released on Thursday. The Wildcats rolled to wins over Woodbine 71-35 and Boyer Valley 55-36. The Bulldogs pushed them to a 55-51 win in their opener.  Part of the success for Glidden Ralston is the complete buy in by the kids to defensive pressure and working hard on the defensive end to create offense.  They had 30 steals in the win over Woodbine with Holly Handlos, Meredith Grossman and Julia Fleecs each having 6 steals.  This has been a team effort as the Wildcats have lost a few players to injury and illness early this season but they have proven they have depth and work as a TEAM to win games.  Fleecs continues to look like a 1st team all-state player scoring 36 points against Woodbine and 18 points, 15 rebounds, 8 assists and 5 blocks against Boyer Valley.  Handlos is making a statement as an all-state player as well she scored 17 points against BV including hitting 5 of 8 from 3 point range, that followed a 16 point, 6 assist, 6 steal game against Woodbine.  Handlos shot 12-22 from the field in the two games combined. Bridgette Daniel added a 16 point game against Boyer Valley.  The big test for Glidden Ralston will be Saturday, January 14th at Exira/EHK.
Kuemper Girls Basketball bounced back Friday and Saturday with wins after suffering a 1 point loss Tuesday to St Albert.  The Knights are 8-2 on the season.  The Knights let a game slip away Tuesday that they probably should have won.  This team is loaded with talent and has played well this season but at times can lose focus and just rely on pure talent.  If they can solve that issue the future is limitless for this team. They have great size and plenty of shooters to make a deep run come playoff time. Tuesday against St Albert they came out slow before dominating most of the 4th quarter outscoring the Falcons 12-3 but still lost 47-46.  Kalee Peter who is the energy for this team scored 19 points and added 11 rebounds.  Aimee Adams also pulled down 11 rebounds in the loss. Friday they bounced back and topped Glenwood 64-43.  Karsyn Thomsen who is the emotional leader of this team had a solid night with 12 points while Kalee Peter added 15 points and 7 assists.  Brooklyn Bakke who scored 10 on Friday and looks to be finding her groove in this offense had 16 Saturday night in a 55-31 win over East Sac.  Adams chipped in with 19 points and 11 rebounds and played aggressive on the glass and offensive end which is huge for this team. Kuemper could be pushed Tuesday at home with Harlan but may not be challenged again until they host Exira/EHK on January 21st.
South Central Calhoun Girls only played 1 game this week and knocked off OA-BCIG on the road 55-51 to improve to 8-3 on the season.  Maddie Jones paced the way with 18 points, 6 assists, and 14 steals while Allison Birks controlled the backboards hauling in 15 rebounds, 4 steals and 3 blocks.  Emily Henkenius has come on the past few games and added 7 assists in the win.  The Titans had 19 assists on 20 made baskets but shot just 4-26 from 3 point range.  This is a fairly young team with Birks and lately Henkenius the only 2 seniors seeing a lot of minutes.  The vast majority on players seeing time are Sophomores Maddie Jones and Heidi Hammen along with Freshman Emma McKinney.  Though Jones started last season and Hammen saw action, consistency has been a concern at times for this young team as the bench looks to develop and add strength to a pretty solid starting 5.
The Ar-We-Va Boys Basketball team enters this week ranked 6th and sitting 10-0 on the season.  They continue to dominate the Rolling Valley Conference having lost just 1 game since its inception.  They opened the week with a convincing 81-49 win over Paton Churdan taking control of that game early with their defensive pressure (Derek Schurke with 5 steals) and their ability to get teams playing faster than they want and taking shots they may not want to take. Ar-We-Va also executes well on offense and can be unselfish with the ball.  That showed Tuesday when they had 22 assists in 29 made baskets against PC.  Derek Schurke led the way with 6 that night.  Schurke was honored right before the holiday break for scoring over 1,000 points in his career.  Jake Danner has come alive this week and put together back to back big games with 18 points and 10 rebounds against PC and 12 points 11 rebounds in their 49-30 win at CAM Anita. Zach Kraus added 7 assists. This team is deeper than in past years with Keegan Simons, Logan Smith and Tanner Freese giving them valuable minutes off the bench. If they can become a little more consistent with their outside shot and continue to play their brand of pressure defense the Rockets could make a push during the playoffs.
After a slow start to the season the IKM/Manning Boys Basketball team may be starting to hit their stride.  A renewed focus over break to execute and play with intensity appears to have caught on and the team went 2-0 this week to move to 4-4 overall and 2-4 in league play.  They opened quickly on Friday night in a 63-56 win over a good LoMa ball club leading 25-7 only to find themselves falling behind in the 3rd quarter.  They would trail by 4 before rallying behind Sam Brandt and the hot shooting of Sam Gross who came in averaging 4 points per game but finished with 21 points including 5-12 from 3 point range and hitting 3 in the 4th quarter.  A big weakness for this club has been free throw shooting but Gross stepped up late and knocked them down to help his club keep the lead.  IKM/Manning entered the game shooting under 50% from the line and struggled as a team again Friday night.  Brandt finished with 18 points on 7-14 shooting while Ben Wegner added 13 points.  Jared Johnson pulled down 11 rebounds. The team finished though with just 8 assists on 22 made baskets which is slightly below their season average of assisting on just over 50% of their baskets.  The Wolves followed up their Friday win with a Saturday afternoon win at Ida Grove beating OA-BCIG 67-34.  Brandt went off for 22 points and 4 steals.  Jared Johnson added 14 points, 7 assists and Sam Gross followed Friday night with 12 points. The Wolves would have 16 assists in 29 made baskets. Wegner pulled down 10 rebounds. IKM/Manning could get on a 4 game win streak with games against Riverside and Missouri Valley this week before hosting Treynor on Friday night.
The Kuemper Boys Basketball team went 3-0 this week including a come from behind overtime win at Glenwood Friday night.  Kuemper opened the week blowing out St Albert 70-48.  It was a very good team effort as nobody scored more than 13 points but the team shot 28-51 from the field. Sam Auen had a nice defensive effort with 5 steals.  Kuemper put the game away early outscoring the Falcons 23-4 in the 1st quarter.  Friday night was a bit more of a struggle as Kuemper trailed late in regulation but rallied to send their game at Glenwood to overtime.  They would outscore the Rams 17-8 in OT as Matt Dentlinger scored 21 points and pulled down 13 rebounds.  Jacob Schaefer added 18 points and 11 rebounds and was big down the stretch in regulation.  Parker Badding added 16 points. Saturday night against East Sac, Kuemper would pull away in the 3rd quarter and go on to win 75-45. Dentlinger again had a double-double with 22 points and 10 rebounds, Will Badding added 13 points and 7 boards while Schaefer hit for 12 points and 7 rebounds.  Kuemper showed this week that they don't plan to take a night off.  They understand they have the chance to make a special run but need to show up every night.  The thing that impressed me Saturday night was they had the size advantage and new it so they took advantage of it.  Their guards would drive and just get the ball up on the glass and allow Badding and Dentlinger to clean up any misses.  Kuemper is one of the more balanced and well-rounded teams I've seen in the area the last several years.  They host Harlan Tuesday which will be a test before a big matchup next week with Atlantic.
South Central Calhoun Boys opened the 2nd half of the season similar to how they began the season when they started 3-0.  The Titans were 2-0 this past week with wins at OA-BCIG (60-47) and against a good Storm Lake St Mary's (73-61) team Friday night.  Jonas Otto has been big for this team almost all season and Tuesday night at Ida Grove he went off for 26 points on 9-16 shooting including 4-7 from 3.  Kody Case did a good job that night finding open teammates as he dished out 8 assists.  Jared Birks went 6-10 from the field for 12 points. Friday night Otto again shot well hitting 6-12 from 3 point range and 8-16 from the field on his way to a 24 point night.  He added 4 steals. Case showed off his defensive prowess with 6 steals while Jared Birks hit 9-14 from the free throw line in scoring 19 points. AJ Neubaum chipped in 13 points and was 5-5 from the free throw line.  The Titans have threats inside and outside but at times get happy playing 18 feet and out from the basket.  This is a team that has good overall size and when they use that size to their advantage they are tough to beat.  The Titans could get a real good test to start the 2nd half of the season Friday night at Alta Aurelia.
Other top individual performances this past week
Basketball
Sam Scott of East Sac 18 points Saturday vs Kuemper, 15 points 10 rebounds Tuesday vs SE Valley, 14 points, 7 rebounds Monday vs Cherokee
Joe Towers of Paton Churdan 19 points vs West Harrison on Saturday, 19 points Friday vs Exira/EHK, 19 points Tuesday vs Ar-We-Va
Jake Berns of Paton Churdan with 15 points vs West Harrison on Saturday, 14 points 7 rebounds Tuesday vs Ar-We-Va
Cooper Ross of Carroll 18 points Friday vs Boone
Colby Vincent of Carroll 15 points vs Boone Friday
Justin Sparks of Glidden Ralston 14 points 8 rebounds Friday vs Boyer Valley, 18 points 10 rebounds vs Woodbine on Tuesday
Ben Obert of Coon Rapids Bayard 14 point's vs Charter Oak Ute Friday, 17 points, 7 rebounds Tuesday vs CAM Anita
Colton Lenz of Coon Rapids Bayard 5 steals vs Charter Oak Ute on Friday
Olivia Mumm of Ar-We-Va 13 points Tuesday vs Paton Churdan
Morgan Kirsch of Ar-We-Va 11 points, 15 rebounds vs Paton Churdan Tuesday
Emily Hinners of Ar-We-Va 13 points 7 rebounds Tuesday vs Paton Churdan
Jenna Beyers of Paton Churdan 26 points 13 rebounds 8 steals Tuesday vs Ar-We-Va, 19 points, 11 rebounds, 4 steals Saturday vs West Harrison, 13 points Friday vs Exira/EHK
Grace Geisler of Paton Churdan 13 points vs Ar-We-Va on Tuesday, 19 points vs West Harrison Saturday, 13 points Friday vs Exira/EHK
Madi Bruening of East Sac 15 points 7 rebounds Tuesday vs SE Valley, 15 points Monday vs Cherokee
Taylor Houska of East Sac 5 steals Tuesday vs SE Valley
Megan Wright of East Sac 5 steals Tuesday vs SE Valley
Riley Fischer of East Sac 5 steals Tuesday vs SE Valley
Sydney Obermeier of Audubon 11 points, 9 rebounds Tuesday vs LoMa, 18 points, 8 rebounds Friday vs Underwood
Taylor Nielsen of Audubon 8 points, 8 rebounds, 6 assists Tuesday vs LoMa
Brandon Riley of Coon Rapids Bayard 14 points Tuesday vs CAM Anita
Blake Pagel of Glidden Ralston 21 points Tuesday vs Woodbine
Cameron Carroll of Glidden Ralston 15 points Tuesday vs Woodbine
Tate Killeen of Audubon 15 points 7 assists Tuesday vs LoMa
Josh Lange of Audubon 21 points vs LoMa Tuesday
Lane Lawson of Audubon 17 points, 12 rebounds on Tuesday vs LoMa
Micky Williamson of Audubon 11 rebounds Tuesday vs Loma
Levi Olhausen of East Sac 17 points Monday vs Cherokee
Ryan Bellcock of East Sac 13 points, 6 rebounds Monday vs Cherokee
Brandyn Clair of East Sac 13 points vs Cherokee Monday
Kia Rasmussen of IKM/Manning 6 assists Saturday vs OA-BCIG, 19 points vs LoMa on Friday
Peyton Gross of IKM/Manning 10 points 12 rebounds Saturday vs OA-BCIG, 8 points, 18 rebounds Friday vs LoMa
Taylor Mohr of Carroll 16 points vs Boone Friday
Tina Lair Van Meter of Coon Rapids Bayard 18 points, 12 rebounds, 5 steals Friday vs Charter Oak Ute
Jade Hays of Coon Rapids Bayard 7 steals Friday vs Charter Oak Ute
Claire Olsen of Audubon 13 points, 5 steals Friday vs Underwood
Kaitlin Schultes of Audubon 10 points, 8 rebounds Friday vs Underwood
Wrestling
Cody Schumacher of South Central Calhoun at 195 went 3-0 with 2 wrestling wins Tuesday at Woodbury Central, finished 2nd at Coon Rapids Bayard Tournament Saturday
Brody Goodman of South Central Calhoun at 152 went 3-0 with 2 wrestling wins Tuesday at Woodbury Central, finished 2nd at Coon Rapids Bayard Tournament on Saturday
Ashten Halvorson of South Central Calhoun at 160 went 3-0 with 2 wrestling wins Tuesday at Woodbury Central
Keaton Hammen of South Central Calhoun at 285 went 3-0 with 2 wrestling wins Tuesday at Woodbury Central
Zak Hulsing of Kuemper went 3-0 at 152 Thursday vs St Albert, Clarinda and Creston, finished 2nd at the Tri Center Tournament Saturday
Ben Schmitz of Kuemper went 3-0 at 106 with 2 wrestling wins Thursday vs Clarinda and Creston, finished 2nd at the Tri Center Tournament Saturday
Taylor Harrington of Kuemper went 3-0 at 285 with 2 wrestling wins Thursday vs Creston and St Albert
Garrett Bruce of East Sac went 3-0 at 145 with 2 wrestling wins Thursday at Okoboji, finished 2nd at Coon Rapids Bayard Tournament on Saturday
Chase McAlister of South Central Calhoun finished 2nd at 138 at Coon Rapids Bayard Tournament Saturday
Dalton Arnold of Coon Rapids Bayard finished 1st at 220 at Coon Rapids Bayard Tournament Saturday
Dustin Andreasen of Audubon finished 1st at 170 at Coon Rapids Bayard Tournament on Saturday
Isaiah Taylor of Audubon finished 2nd at 285 at Coon Rapids Bayard Tournament on Saturday
Elijah Dirkx of Carroll finished 2nd at 182 at the Ames Tournament on Saturday
Tim Sibbel of Kuemper finished 1st at 145 at the Tri Center Tournament on Saturday
Lucas Lampe of Kuemper finished 2nd at 182 at the Tri Center Tournament on Saturday
Boys Swimming
Sebastian Pek  was 3rd in the 50 Free at Johnston Invitational on Saturday, finished 1st Monday in 50 Free vs Sioux City
200 Free Relay with Tyler Lux, Stone Smith, Joe Fordyce and Sebastian Pek took 3rd at Johnston Invitational on Saturday
200 Medley Relay with Dalton Ehlers, Tyler Lux, Trey Kluender and Sebastian Pek finished 2nd Monday vs Sioux City
Joe Fordyce took 2nd in the 100 Fly vs Sioux City Monday, finished 2nd Monday in the 500 Free vs Sioux City
Jared Cheney finished 1st in the 500 Free Monday vs Sioux City
Dalton Ehlers took 2nd in the 100 Back Monday vs Sioux City
400 Free Relay with Jared Cheney, Simon Pek, Joe Fordyce and Sebastian Pek finished 2nd Monday vs Sioux City