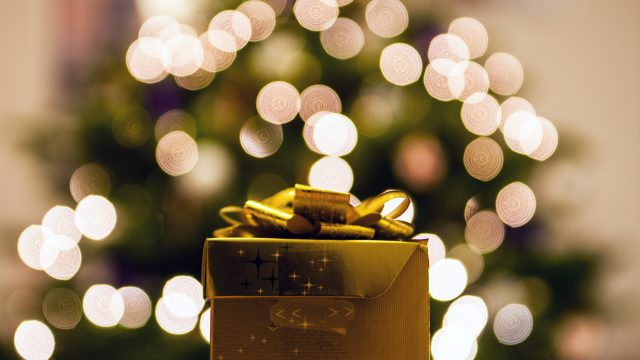 Carroll Broadcasting encourages you to host your own giving effort at work, church or your organization. In the past listeners have held food, clothing and toy drives but anything you think would be helpful at this time of year is welcome!
At the end of the drive, we'll help deliver your donations. As a way to say thank you for your generosity, KCIM/KKRL & KIKD will broadcast live from your office or business to highlight the generosity of your co-workers and commitment to supporting our local families. Listen for our "Spirit Of Giving" features all through the holiday season.
It is totally up to you to pick who you will donate to and what you would like to donate. Our goal is to make the holidays brighter for everyone here in our area and to show the tremendous generosity of people here in our area.
Tell us about your drive and we will help spread the word on all three of our radio stations free of charge throughout the holiday season. From everyone here at Carroll Broadcasting, we wish you and your family the best this holiday season.
KCIM / KKRL / KIKD Spirit of Giving Holiday Food Drive
A big THANK YOU to everyone who stopped by our annual holiday food drive!  With your generous donations we were able to raise a record amount of food donations this year and a new record total for monetary donations with $2,632 to help our four amazing organizations that help local families.  Thank you also to both grocery stores in town, Fareway and Hyvee for all their help.  Also a big thank you to American Home Shield and Edge 2 who hosted food drives and donated that day as well.  A lot of families will have a brighter holiday and year thanks to all your donations!
Angry Beaver in Maple River / Chub Pocket in Vail / Loaded Goat in Aspenwall
11/1 thru 12/24
Collecting cash donations for a hot dog/food bar on Sundays and Wednesdays at The Angry Beaver in Maple River and on Sundays only at The Loaded Goat in Aspinwall IA.  Cash donations can be made anytime at the Chub Pocket in Vail with all donations going to the Family Resource Center. Plus all 3 locations will be accepting donations of toys, coats, hats and gloves for kids anytime now through Christmas.
Manning Municipal Utilities
11/3 thru 12/22
The Manning Municipal Utilities are sponsoring "Adopt A Family." Please join them in this great effort to give back & help bring a little holiday cheer to those in need!  They are accepting nominations for families or individuals, so if you know of someone that could use a little extra blessing or holiday cheer, stop into Manning City Hall & nominate them.  There will be a box for nominations to remain anonymously presented.  If you are in the position to adopt a family or make a donation either monetarily or with gifts, please let us know at City Hall.  Together we can make a difference!
Gifts of Goodness Toy and Clothing drive
11/6 thru 11/30
Help bring a smile to a Carroll area child this Christmas by donating a new, unwrapped toy or a warm piece of clothing.  Gifts are needed for ages 0-18.  You can drop off your gifts at the Main Street entrance of the First United Methodist Church at 1621 N. Main St.  Items gathered now through November 30th will be distributed by New Opportunities and the Family Resource Center.
Salon Lela
11/7 thru 11/30
Salon Lela is having a food drive through the entire month of November!  For every canned good or non-perishable food item you bring in you will receive 20% off all retail.  Salon Lela is located at 626 N. Court St in Carroll.
Anytime Fitness
11/14-11/22
Anytime Fitness is collecting food for New Opportunities of Carroll, this is our first year doing this.  Any new prospective member can bring in 10 items for a $0 enrollment sign up and current Anytime Fitness Members can bring in 10 items for one free month! We are also creating "holiday baskets" for New Opportunities where members are bringing in specific Thanksgiving Day meal foods (pie crust, pie filling, stuffing, etc) our hope is to create several baskets for New Opp to be able to distribute to families in need to enjoy a Thanksgiving Day meal.
Landus Cooperative in Templeton
11/16 thru 12/8
We're holding a Toys for Tots drive from now until Dec. 8th. Anyone who brings a new, unwrapped toy or a monetary donation to the Landus Cooperative Templeton location will be entered to win a $50 to The Still Bar & Grill also located in Templeton. Questions? Call 712-669-3351. Please join us in making this the best year for Toys for Tots!
Cub Scouts Pack 113 Carroll,IA
The Cub Scouts Pack 113 are holding a food drive for the Community of Concern food Bank to help the people of our community in this time of need during the holiday season. The Cub Scouts are here to teach our youth about community service and helping to make our community better. We are also here to teach our Cub Scouts that there are some people that are less fortunate and can use our help so this is a great time for us to come together and support the community in need. There are boxes placed throughout the community that you can leave food items in and you can contact myself Nathan Richards Cub Master at 712-790-9949 and donate as well.
Carroll Public Library
The Carroll Public Library is putting together an event again this year to help kids in need have a chance to read. The Reading Tree was put up and has over 100 names attached to tags on it. The library requests any books turned it for the children be hardback books or board books so they can withstand some wear. The tags are ready to be picked up by individuals wanting to help. The whole process is confidential for the children and families.  Wrapped books with the Reading Tree Project tag attached can be turned into the Carroll Public Library by Thursday, Dec. 14 at 8 p.m. Monitary donations to their effort are also accepted and checks can be made out to the Friends of the Carroll Public Library.
Haley Equipment
11/20/17 thru 11/24/17
Haley Equipment is taking canned goods or other necessities through Friday, November 25th, with each person donating getting 10% off one part.  The Haley staff invites you to be part of the Spirit of Giving and get a special discount when you help fight hunger this holiday season!
NEW OPPORTUNITIES
Now through December 12th
This is our first year of giving and are collecting gifts for area children for the Giving Tree thru New Opportunities. All that you need to do is choose a card from our tree and using the information on the card, purchase a gift and return the gift and card back to the store or to New Opportunities by December 13th. If you are unable to purchase a gift any monetary donations are welcome so that we are able to help all the children on our tree have a Happy Holiday.