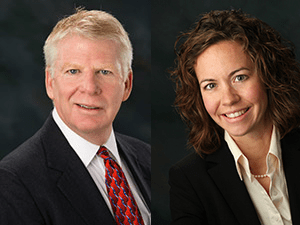 Photo (l to r): Jeff Minnich and Gina Badding
In April, Drake Construction Company of Menlo filed a petition in Carroll County District Court, claiming the City of Carroll had breached a contract for work on the city's water supply well and transmission lines. At Monday's city council meeting, council members were asked to approve an agreement with local attorneys on the pending litigation. Director of Public Works, Randy Krauel, explained that the firm of Neu, Minnich, Comito, Neu and Badding, P.C. had submitted a contract for services.
Councilman, Jerry Fleshner, did have one concern regarding the billing timeline referenced in the contract.
City Attorney, David Bruner, says the city could see quite a bit of activity in one quarter and very little in the next. However, he says, the council could request a monthly billing option instead. No formal decision was made on that point at the meeting. The council did approve the contract, and Neu, Minnich, Comito, Neu and Badding will be defending the claims made against them as well as working to pursue any claims that the City of Carroll may have against Drake Construction from the project. Drake Construction's petition alleges they suffered damages from the city's failure to pay for work provided and that they were not compensated for work requested orally, outside the scope of the original contract. They are seeking compensation for losses, accrued interest, late charges and court costs.