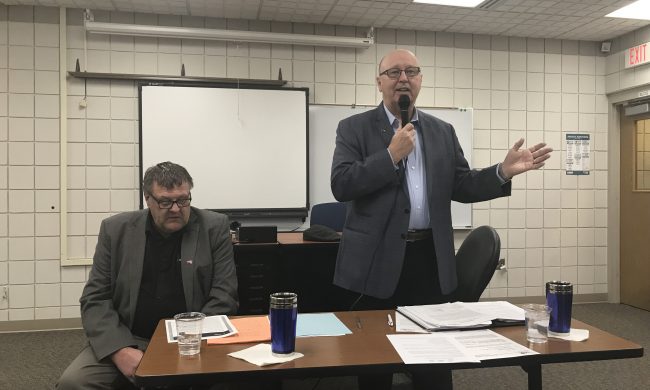 At the beginning of the month, a bill proposing the reinstatement of Iowa's death penalty passed through an initial review in the House of Representatives, but it soon became clear there was likely not enough support. Republican Representative, Steven Holt of Denison, says he "morally and conceptually" would approve of the bill, but on a practical level, he couldn't vote in favor when looking at the cost. At Saturday morning's second Carroll Chamber of Commerce-sponsored legislative forum, District 12 House Representative, Brian Best, and District 6 Senator, Mark Segebart, were asked where they would stand on this issue. Best says he would not vote in favor of the death penalty.
Segebart says that he believed the bill was aimed at certain crimes, and he would even look to expand that criteria.
The issue of drugs and the death penalty was raised again by Segebart after an attendee asked about grandparent's rights when children are removed from the parental home.
And again when asked to clarify his statements and if he would support the death penalty provision for methamphetamine users.
Area constituents also asked the representatives about federal and state tax credits, the proposed tuition exchange bill that would give first-time private school attendees the ability to transfer funds from public to the private institution and the impact of de-appropriations on Iowa's community colleges. We will bring you more from the forum and from the representatives on these topics and more in upcoming broadcasts.