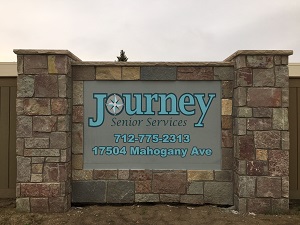 Journey Senior Services welcomed more than 300 people to its ribbon cutting ceremony and open house last week at its newly refurbished location in Carroll. The 27,000 square foot building was purchased from the county by a group of investors, Nancy and Kenny Snyder, Matt and Kelly Wendl and Chad Kanne, in early 2017. They completed extensive interior and exterior renovations in order to create a local option for families struggling with memory loss. Snyder says Journey is technically classified as assisted living, but they've designed it to treat specific conditions.
Journey will cater exclusively to residents and families dealing with Alzheimer's, dementia and other similar conditions. They anticipate opening their doors sometime in the next month once the Iowa Department of Inspections and Appeals grants their approval. The facility features three separate courtyards, an activity room, a chapel and even a beauty salon. Snyder says this sets them apart because each client has a choice in how they spend their days.
He adds the building's sheer size will add to their clients' comfort and prevent a feeling of confinement. County Supervisor, Marty Danzer, saw the facility for the first time since it was sold last year and is pleased with the final result.
Journey Senior Services, when opened, will serve up to 24 patients and create an estimated 20 jobs in the community. Pictures of the facility during the open house can be found included below this story.