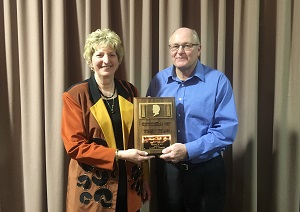 Pictured (L-R): CJ Niles and Marty Steffes
Business and communities leaders met Monday night for the Carroll Chamber of Commerce Annual Banquet to celebrate the successes of 2017 and to honor citizens who made a tremendous impact over the course of the year. Seven different awards were presented during the night's festivities, the last of which was the 2017 Citizen of the Year. CJ Niles, the previous award winner, was the presenter, and referred to them as a quiet leader, calling him by the initials XP, or excellent person, to keep the award a surprise.
The long list of his contributions to Carroll includes work with little league baseball, the Sauk Rail Trail, Kuemper Catholic Schools, the Carroll Recreation Center and much more. Niles used the letters in the winner's first name to make the announcement.
Steffes currently serves as vice president of Roman J. Steffes and Sons Construction. The company is credited with building a significant number of structures in Carroll County and was named the 2017 Heritage Award winner. Steffes addressed the crowd after the presentation and praised the people of Carroll for everything they offer.
Six additional awards were presented last night, and a list of those winners can be found included with this story on our website. Carroll Broadcasting will bring you more from the banquet in upcoming broadcasts.
______
Citizen of the Year Award:     Marty Steffes, Roman J. Steffes and Sons Construction
Good Neighbor Award:     Charlie Nixon, the Coon Rapids Enterprise
Humanitarian Award:     Kristen Lundstrom, Carroll Summer Fun Camp
New Business of the Year:     Promesing Image Salon and Spa
Heritage Award:     Roman J. Steffes and Sons Construction
Public Service Award:     Carroll Athletic Association
Young Professional of the Year:     Austin Scott, Fusebox Marketing