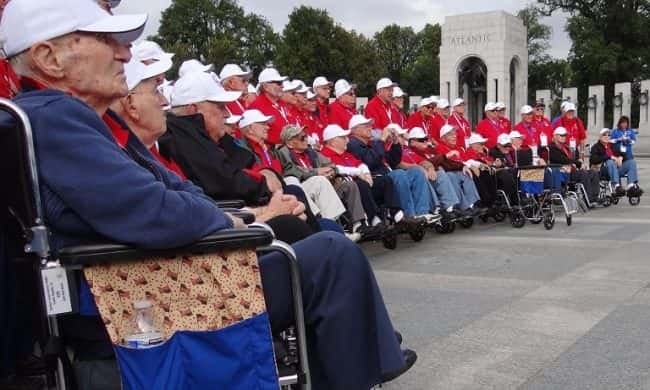 The next Brushy Creek Honor Flight is scheduled for Saturday, May 12, and local efforts are underway to help fund this free trip for area veterans. Glidden American Legion Post Commander, Jim Irlmeier, and Bob Fasbender, Breda Post Commander, have both taken the trip. Fasbender says it was a rare privilege to go and an experience he will never forget. One of the things that makes it so memorable are the people.
Irlmeier says there is a similar show of gratitude at both ends of the flight.
Irlmeier doesn't want to ruin the surprise for those who have not yet taken the trip, but there are many more things done to honor these men and women throughout the entire day. On Sunday, March 18, the Glidden Legion is hosting a fundraising dinner at the brand new Albert Kruger, Sr. Shelter House.
The free-will donation will be used to make the flights free of charge to the veterans. Fasbender says each post is responsible for raising $10,000 for the Brushy Creek Honor Flight fund. He adds that it is very important to make sure that when any monetary donation is made, it is clearly identified as earmarked for Brushy Creek. It is estimated to cost $600 for each veteran to go on this flight, but that does not even begin to cover the true value of this experience, according to Irlmeier.
Fasbender adds it really brings tears to their eyes to see how many people come out and support not only the flights themselves, but all the fundraising efforts that take place throughout the year. Irlmeier wants to thank everyone who gives so selflessly. The evening includes a silent auction, and of everyplace he went for a donation of an item or cash, he says he was not turned down even once. The roughly 20 items included in the auction range from a fireplace to gift cards, collectible tractors and much more. Veterans from World War II and the Korean and Vietnam wars are eligible to take the honor flights. Eleven veterans are currently signed up for the next one and another 25 are on a waiting list. Anyone wishing to make a cash donation can do so by following the instructions included here.
___________________________________
To make a donation:
          Make check out to Brushy Creek Honor Flight
                   Mail to: P.O. Box 385, Glidden, Iowa 51443