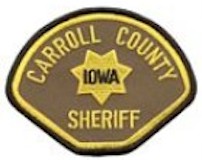 The Carroll County Board of Supervisors were presented with three bids on new vehicles for the Carroll County Sheriff's Office. Sheriff, Ken Pingrey, told board members Monday that he provided specifications for a pickup to replace a Dodge truck and one of the department's Explorer's. One bid, however, was rejected because it did not meet police pursuit specifications.
Supervisor Rich Ruggles asked about the purchase of the pickup, and Pingrey said it is nice to have one in their fleet for transport.
The bids left for consideration on the Ford Explorers were apples-to-apples, and Pingrey made the recommendation to accept the lowest of the two from Champion Ford in Carroll. Pingrey says that it will take several months for the vehicles to be delivered, and the costs will fall under the amount budgeted in Fiscal Year (FY) 2019. The total net bid for the 2018 Explorer was $19,955 and for the 2018 Ford F150 pickup was $18,848. The board accepted the bids on a unanimous vote with one member, Dean Schettler, not present.