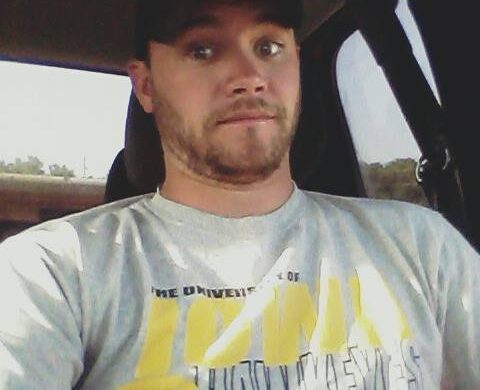 Evan Subbert of Coon Rapids says he entered into a good-natured bet for the Iowa/Iowa State game this past Saturday with a good friend, never really believing he would have to pay up.
Subbert, who is originally from Audubon, graduated from Des Moines Area Community College (DMACC) in Boone in 2011, but he lived in Ames for three years, and says he has been an ISU fan since he was a kid. He now works for the Guthrie County Roads Department and has to wear the Hawkeye gear everywhere, from morning to night. And, he adds, he works with all Iowa fans and they are having a great time with this. Subbert, obviously, didn't own any Hawekeye apparel and had to start by borrowing the first two pieces from his father, who is a Hawk fan. But after only a day into the bet, Subbert says he got the idea to expand on it, and to maybe give a little something to a charitable cause.
After visiting with a couple of friends about his idea, he did some research and selected Hope Ministries out of Des Moines.
Now, there is a challenge to all the Hawkeye fans from around the country to keep this bet going up to the next game. But Subbert says he is confident it won't go past that.
And to the friend who he made this bet with, he says he hopes she is enjoying this. Details on how to contact Subbert or to send gear can be found below.
___________________________________
You can message Subbert at him on Facebook Evan Donald Subbert
Or, send items to 1317 165th Street, Coon Rapids, Iowa, 50058