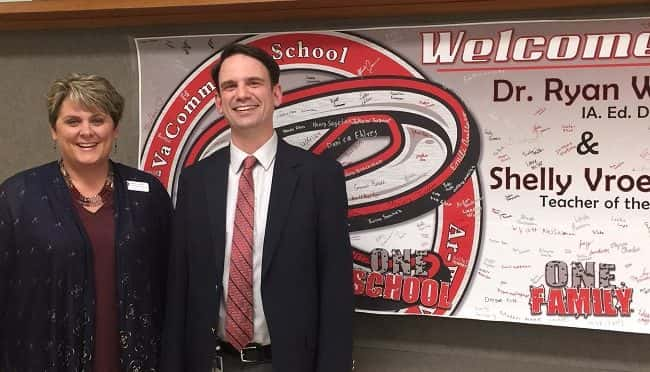 The Director of the Iowa Department of Education, Dr. Ryan Wise, says he has been traveling the state and visiting school districts since he was named director just over two years ago. He made a special stop in Westside Tuesday afternoon to tour Ar-We-Va, the recently honored Blue Ribbon School.
He says he comes into these districts with a couple of things top of mind.
It is also a great opportunity for him to hear feedback and learn how the department can be an even better partner in the efforts of schools. He says one of the most often-heard concerns in rural districts is about declining enrollment and the impact that then has on their funding. He says they are also seeing changes being implemented as districts learn more about diversity and the best way to provide the necessary tools for those students. Although districts across the state are facing funding shortfalls for this year and possibly more for next with the current Iowa budgetary deficit, Wise says the Department of Education does not have any impact on legislative funding.
The one thing that has impressed Dr. Wise during his visit to Ar-We-Va is how the school has been able to work with a neighboring district to create more learning opportunities for students, particularly in Career Technical Education (CTE).
Dr. Wise adds that keeping Ar-We-Va and other small rural schools viable is not necessarily a job for the Department of Education. He sees it as the duty of other to ensure the schools can offer that one-on-one, personal interactive education as well as the career, technical and post-secondary options.
Dr. Wise was joined by the Iowa Teacher of the Year, Shelly Vroegh from the Newton Community School District. Vroegh also gave us some insights into what these district visits mean for her, and we will bring you more on that in an upcoming broadcast.