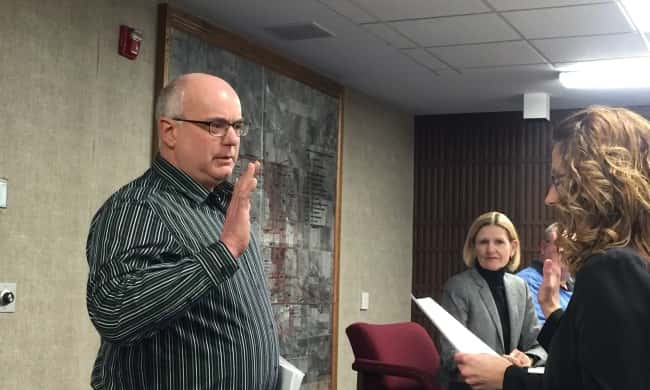 LaVern Dirkx has found himself back in a public service role nearly a year and a half after leaving the Carroll Community School District Board of Education when he accepted an appointment to fill the at-large seat on the Carroll City Council Monday night. Dirkx had spent 10 years with the school board and close to 10 years with the Park's Department, he was with the High Schools at Work organization and was a little league coach for many years. He says he had taken some time to focus on his business, Dirkxy's Woodcraft, but felt he was in a position now to give the time and attention needed to do the job.
He said he really did miss helping people understand what is happening and one of the advantages he now has with his business is the flexibility to be able to alter his work schedule to fit other items into his day. Dirkx's experience is a key factor as he is coming onto the council right in the middle of budget planning for the 2018 fiscal year, and this was one of several deciding factors for accepting the appointment.
Dirkx says that if there is one thing that he needs to focus time and attention on right away, it is the library/city hall project. With a meeting scheduled for 6 p.m. on Monday, Jan. 16, he said he needs to be brought up to speed, and fast. His attention to detail and thorough research in preparing for meetings, he says, is one of his better attributes. But, Dirkx added that he always thought his ability to communicate and his open-door policy were the biggest assets he possessed throughout his many years of public service.
Dirkx moved to Carroll in 1975. His wife, Monica, is a 7th grade reading instructor for the Carroll Community School District, and they have four children: Matt, who works for Meredith Corporation in Des Moines; Sarah, a doctor of physical therapy out of the Spencer Hospital; a son, Chris, also a doctor of physical therapy, who is buying a clinic in Alamogordo, New Mexico; and Michael, who is studying to be an orthopedic surgeon in the Detroit, Mich. area. Dirkx is filling the vacancy left with the resignation of Brandon Vonnahme on Dec, 16, 2016.