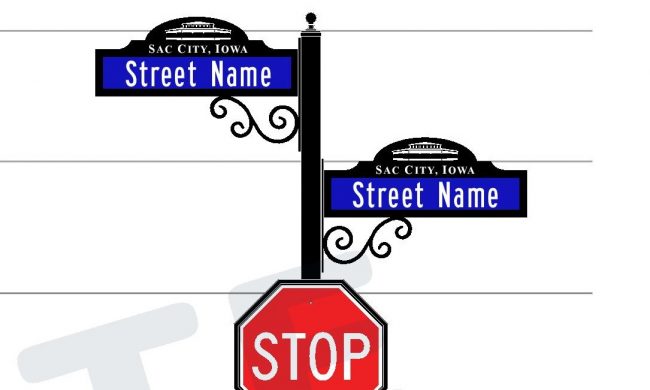 It has been more than two-and-a-half years since Sac City businessman, John Criss, passed away, and his influence is still being felt from the nearly $6 million he left for the beautification of the community. The next project on the list is to replace the aging street signs across town. City Administrator, Jamie Lawrence, says the new signs, which are scheduled for installation in spring, will blend well with the city's color schemes.
Two designs were chosen to be used based on where a particular sign was located in town. Lawrence says areas with higher traffic, like Main Street, will get a more detailed look.
Less traveled areas will receive a similar update sans the ornamental additions. The total cost for the sign replacement is not yet available, but photos of preliminary designs can be found included below this story. So far, the Criss Trust has contributed to a $100,000 shelter house, a new community sign in Chautauqua Park, landscaping work in Criss Park, recreational area updates in South Park with many more projects in the works.