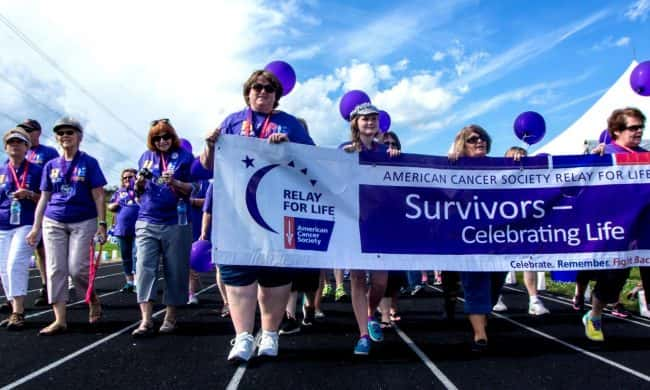 Kim Durst, Senior Community Manager for the American Cancer Society Relay for Life, says that even though team numbers were down from 2016 at the June 23 Relay, fundraising numbers in Carroll County remained high. The final tallies have been made on the 2017 Relay with a total of $202,000 raised to serve cancer patients and survivors of all types of cancers. Durst reports that sponsorship remained stronger than ever with just under $40,000 coming in. The money raised will be used to support research efforts, to advocate for patients and families and to pass laws that help to protect everyone from this devastating disease. The entire Carroll County Relay for Life organizational and leadership teams want to give a special thank you to the individuals, businesses and teams who helped put them over the $200,000 mark again this year. Durst also announced the top fundraisers as Team Bass and The Graphic Edge, who raised at least $15,000 each. A full listing of the top team finishers and sponsors can be found below.
_____________________________________
2017 Teams Make Our Success
Sapphire-$15,000
Team Bass
The Graphic Edge
Jade-$10,000
At AHS Hope Shines
MoveIt 4 R&D
Schon Strong 17
Team Schroeder
Platinum-$7,500
Kuemper Catholic Faculty and Staff Team
Gold-$5,000
MRHC Strides of Hope
Bronze-$2,500
Team McFarland ~ Grandma Jean's Team
Pella ~ St. Anthony's Team of Hope ~ St. Anthony Surgery
Team Tiger
Rising Stars-$1,000
2017 Carroll High Faculty ~ Allison's Allies ~Carroll Cancer Crusaders
Class Act ~ Crazy For A Cure ~ Delivering Miracles
Heart & Soles ~ Helping Hands   ~ HyVee
Meiners Miracle Workers
New Hope Walk With Hope ~ Ralph Ricke Memorial Tractor Ride
Sophie's Squad-Brackets For Sophie
Team Heithoff ~ Team Second Chance ~ The Purple Kings ~ Williams For Life
Thanks to All Teams
Availa Bank Tootsie Rollers ~ Bank of the West ~ Busche Brigade ~ Carroll Rotary Club
Crazy For A Cure ~ Crossfit Carroll
CSB-Banking On A Cure ~ Dorothy Vogl Memorial ~ Drew's Crew
Fieldcrest Summit Betterment Society   ~ Haley Equipment
The Kibbie-Kustra Family and Friends Survivor Team
Loren Vonnahme Memorial Team
New Opportunities  ~  Pink Ribbon Ladies  ~   Row'd Runners
Steffes Stars ~ Team Conquer
Team Madison  ~  Team M&M  ~  Team Mr. & Mrs.
Team Nice  ~  Team Rotert ~ Team Tooth
Team Vonnahme ~ Team Willenborg
Tumor-Nators St. Anthony Radiation Oncology
PRESENTING SPONSORS – $5,000
McFarland Clinic – Carroll Physicians
St. Anthony Cancer Center
GOLD SPONSORS – $2,000
Manning Regional Healthcare Center
Medical Oncology & Hematology Assoc./Dr. Westberg/Dr. Behrens
Stone Printing-Office Products •  Van Meter Incorporated
SILVER SPONSORS – $1,000
Availa Bank • Carroll Apothecary/Home Care Medical
Commercial Savings Bank • Champion Ford
First American • Iowa Savings Bank • Pella Corporation
Poppa Joe's Golf Classic • Toyne, Inc.
UTC Aerospace Systems(Goodrich) • The Graphic Edge
Subway • Time of Your Life DJ Service • Volquartsen Custom
BRONZE SPONSORS – $500
Bank of the West  • Carroll Glass. • Carroll HyVee
E.T. Video • Fareway Foods.
Haley Equipment, Inc • Dr. Michelle & Jon Heim • Mid Iowa Insurance and Real Estate • Motor Inn of Carroll
Pizza Hut-Carroll • RPM
Trophies Plus • Untited Fund of Coon Rapids & Union Township • Windstar
SIGNATURE – $250
Al's Corner • Ace Hardware
Badding Construction • Benet Snyder • Bloomers Bar & Grill
Bomgaars Supply Co. • Carroll Eye Clinic • Carroll Lumber
Carroll Refuse Service • Carroll Veterinary Clinic
Climate Solutions • Computer Concepts • Culligan Water Conditioning • Drees Co., Heating and Plumbing • Drees Oil
Eco Water Systems • Ed M. Feld Equipment • Iowa Cubs
Lenz Insurance • Lidderdale Country Store • Kasperbauer Cleaners • Market on 30 • Olsen, Muhlbauer & Co. LLP
Marc & Joyce Nieland • Pepsi-Cola Bottlers – Carroll •  Prenger's Slumberland Furniture
Anytime Fitness • Robinson Ruhnke,P.C  •  Smithfield Foods
Templeton Savings Bank • Brian & Megan Badding
HOUR OF HOPE – $100
Flower Garden & Gift Shoppe • General Rental, Inc
Jeanine's Hallmark Card & Gifts • Hibbett Sports
New Way Ford •Quandt Auto Salvage • United Bank of Iowa
DIAMOND MEDIA SPONSORS
KCIM/KKRL/KIKD
Daily Times Herald
OTHER CONTRIBUTORS
Artworks Studio • Breda Golf Club • Blank Park Zoo
Carroll City Police • Carroll Community Schools • Carroll County Ambulance Service • Carroll County Cattleman
Carroll County Sheriff's Department • Carroll Fire Department • Carroll Municipal Golf Course
Carroll Parks and Recreation Department • A Head of the Times Day Spa • Salontief
CYP • DMACC – Carroll Campus • Carroll Public Library-Diane & Dr. Hoot • CCC by Janelle • D&K 10th Hole
Earl May  • Eckerman Jewelry Inc • Robyn Eddy- Thirty-One Gifts •  Fridley Theatres
Gliks • IKM-Manning Community Schools • Jensen Limo • Jets Outdoor Power • Just A Whim
Kansas City Royals • King's Pointe • Andy Koster
Kuemper Catholic Schools • Lizzy Behrens • LuLaRoe • Natural Expressions Photo
Kelsey Nettles • Omaha Zoo
Photography by Fiscus • Promising Image • Renee's Dance and Tumbling • Sears Hometown Store
Snare Shop  • Jill Snyder • Studio 116  •  De Ann Wittrock  •  WOW